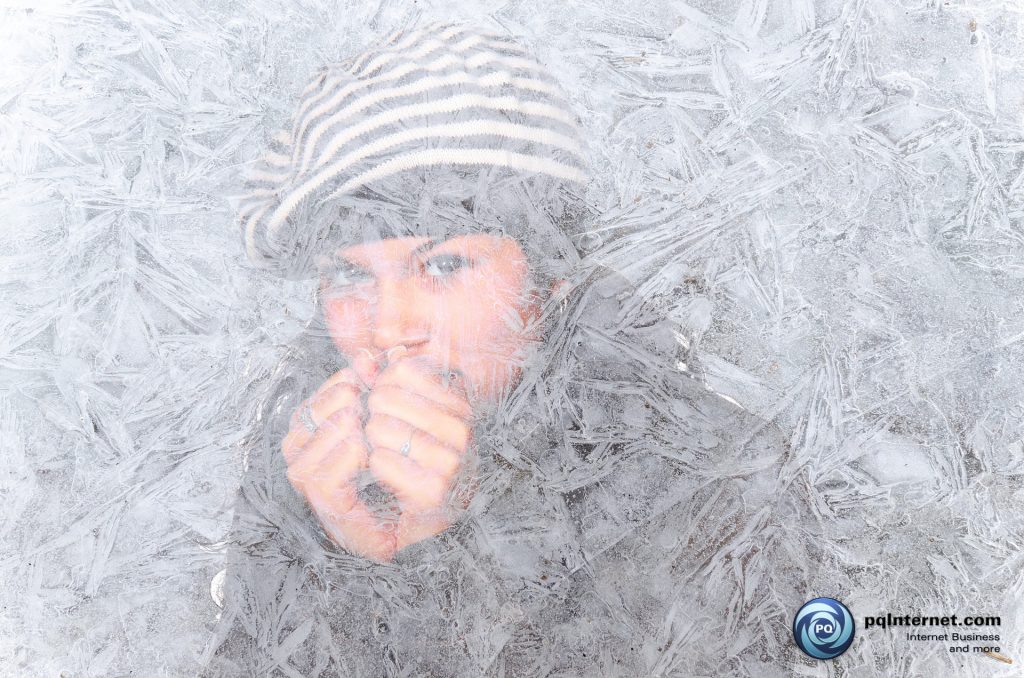 Are you freezing to death mentally?
In survival training courses we're taught that just before a person freezes to death they feel warm, peaceful, and comfortable and that they just want to lie down and go to sleep. You're taught to look out for that feeling and try to keep your mental wits about you and keep moving.
I think there's an epidemic of people in the world today that are freezing to death mentally.
There's a term that's popular in a lot of Internet Marketing forums called the "Herd Mind" or "Marketing to the Herd". The concept is that people blindly follow each other like a herd of cattle. We're conditioned to take the "accepted" path with our lives: which usually means getting a job and spending a large portion of our waking lives at work. We want the big house and the big car and take on big debt to get those things. Once you do, you're locked into a life of serving that debt.  See my post Banks + Debt = Evil.
People eventually start identifying themselves with their jobs. When you're young and just starting out, you look up to and respect the people at the top of the company. You listen in awe as they talk about the time they put in and the sacrifices they make for the company. You begin to work an extra hour or two a few times a week to get noticed, and then it becomes more and more. Before long, you're working all the time. Then you start feeling guilty if you're not working.  This attitude of giving your life to your job becomes ingrained in you. You know to reach the top rung you have to sacrifice.
You've probably created, built, or accomplished something substantial, or sold an amazing amount of product: but who benefited from it the most, you or your employer? Your employer did. Are you in this position?
What have you lost because of the hours you've put in at work? Have you lost a marriage? Did you miss your children growing up? Did you forget about the dreams you once had and the things you were passionate about? Are you numb? Are you feeling warm, peaceful, and comfortable and just want to lie down and go to sleep? Mental Hypothermia.
Or, maybe you do your 9 to 5 or 8 to 5, and come home completely drained because you hate your job. Then you sit on the couch watching TV most nights until its bed time. You just don't ever feel up to doing much else. Maybe you think you're OK because the characters on those TV shows are like family to you. You get more excited about what they're doing than you do about your own spouse or children. When your favorite shows come on, you feel really good inside: peaceful, calm, and comfortable. You expect everyone to respect your time and not interrupt you during this communion with your TV family. You may not even see anything wrong with telling your kids "just hang on, a commercial's coming up". Mental Hypothermia.
Sometimes a life altering event like a divorce or your children getting into serious trouble can wake you up and allow you to see the reality of the life you're living. Sometimes it's waking up in the hospital after having a heart attack. Sometimes it's walking or driving by a park on your lunch hour and watching someone pushing their child on a swing while your children are in daycare. Sometimes it's meeting someone who's living their life on their terms and it makes you realize you're not.
Everyone is different, and therefore, not everyone can or should do the same thing. I'm not advocating that everyone quit their jobs after they read this. What I am advocating is that you learn to see your job as a job, not as who you are. That you live your life to its fullest potential and minimize the amount of time you give to your job and maximize the amount of time you spend with your family, loved ones, and pursuing your interests, goals, and dreams that are not work related.
Once you realize that you've been ripped off by following the herd how do you get back to where you want to be? Sometimes it's as simple as realigning your priorities and getting to know your family again. Sometimes debt is an issue and you need to downsize your home, cars, lifestyle, etc. so that you can live. Maybe you want to eliminate having to have a job so you need to develop a business or residual income sources that don't require a lot of time to manage.
Whatever the situation, here are some ideas that can help you get back to reality!
Realize that your job and workplace is a job and not a social club. Go to work, get your job done and leave on time. If your employer is one that takes advantage of your time or expects you to work long hours for free on a regular basis, look for another job.
Realize that there's no glory in putting in long hours for someone else. There's no glory in putting in long hours for yourself either unless you're building a business or income source that, once started, you can back away from time wise.
Realize that you are not your job. You are a person, an individual, a living thing. Don't identify yourself with your job.
Realize that you are not your debt. Debt can make you feel bad about yourself, especially when you're having trouble paying your bills. Debt can easily perpetuate the cycle of failure because it's always on your mind. You feel shackled by it.  You must learn to separate your debt from yourself. You are a person, an individual, a living thing. Your happiness is not tied to how much money you have, or don't have, or the physical things you have. Happiness and self-worth is rooted in your relationships with others, helping others, and your ability to do those things that you're passionate about.
Realize that you are not your money. Even if you've been fortunate and made a lot of money with your job, your money is not you. Self-worth and happiness is not measured by how much money you have. Happiness and self-worth are rooted in your relationships with others, helping others, and your ability to do those things that you're passionate about.
Exercise. Get up and do something. Even something as simple as going for a walk or walking stairs makes a huge difference. Do it everyday if possible.
Work on your creative side. Learn to play a new musical instrument, or dust off the old one sitting in your closet. Do it regularly. Take a music class. Take an art class.
Don't be so anal about your yard being perfect, the house being clean, or your car being washed. Instead, spend some time with your spouse, your kids, or the whole family. Go to a park, a movie, a play, walk the dog, play a game. It really doesn't matter; just do something together (besides watching TV).
Find something to do to help others.
Take time everyday to visualize your goals.
Stop and smell the roses. Yes, I mean that quite literally. Appreciate the beauty that nature creates around you…. Before it's paved over and someone builds another bank or SuperCenter.
Avoid negative people at all costs. They will pull you down. Spend time with positive people that are generally happy and supportive.
Signup to my email list and I'll send you an email every time I make a post. I want to help you to reach success, and perhaps something I write in a future post will make all the difference to you.
Treat your spouse, or significant other, with the same care, respect, passion, and interest as you did when you first met. Ever notice how easy it is to let that slip over time and start treating perfect strangers better than the ones you love? Don't do that! Keep the fire burning!
Think about the problems that are created by this epidemic of Mental Hypothermia. We're too busy to care about the political situation, or get to know the teachers teaching our children, or question the quality of public education. Political corruption is allowed to run rampant. No one wants to serve. Very few people join service organizations. Church attendance falls and falls. We're too busy to care about anything.  Mental Hypothermia creates a generation of youth that care about nothing at all except themselves.
Wake up, thaw out, and get off the merry-go-round!

Sincerely,
Fred