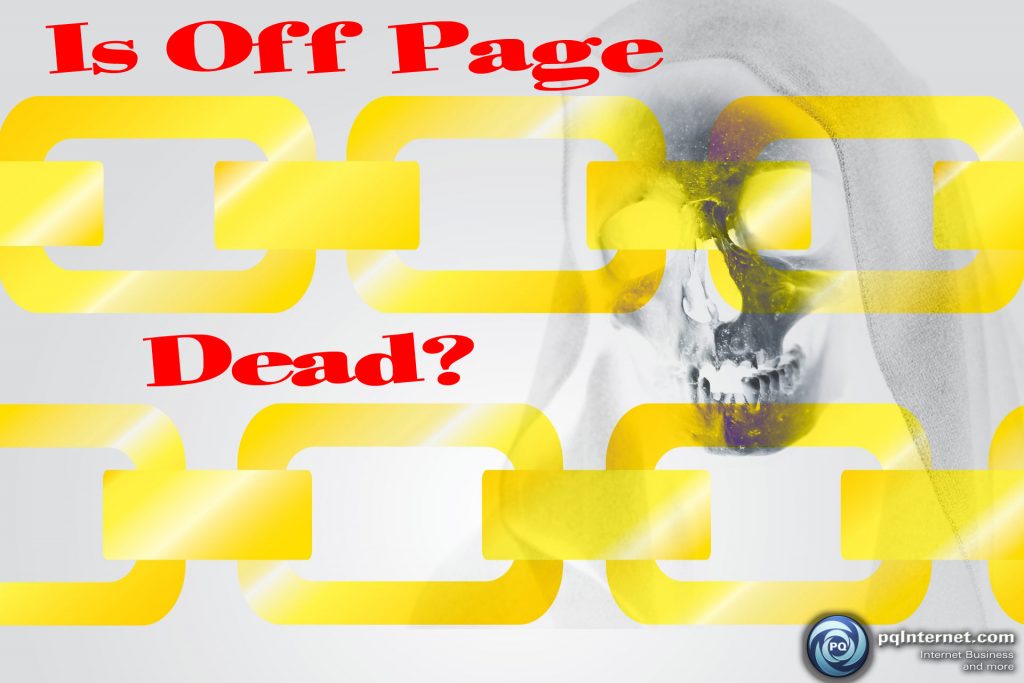 In my recent article Is SEO Dead in 2019, I examined if On Page SEO is still relevant and necessary. This article will look at Off Page or Off Site Search Engine Optimization.
First let's define the difference:
On Page or On Site SEO refers to content and structural changes you make on a website or webpage in the interest of having it indexed and ranked more accurately by search engines such as Google and Bing.
Off Page or Off Site SEO refers to anything that affects ranking and indexing that's external to the actual website or webpage code. Things like links to your site from other sites for example, known as backlinks.
Search Engine Optimization is frustrating to most people because there are few solid, 100% guaranteed answers and when you tweak something, or add or remove something, it can take weeks and even months to see any changes reflected in actual SERPS.  SERPS = Search Engine Rankin Pages – these are the resulting pages from executing a search on a search engine.
What Off Page factors play into search ranking? Here's a non-exhaustive list in no particular order:
Backlinks are probably the most talked about and readily known. While search engines constantly change their ranking algorithms and say that links don't matter as much as they used to, I disagree. While alter their ranking algorithms to try to filter out sites manipulating the rankings, links still are the heavy weight factor in ranking. Each Google Update spreads heartache as some well ranking websites get hit with penalties and disappear from page one. These are not always website that should have been punished, but some are.
How do I know links matter? Perfect lab conditions never exist when measuring this type of thing, but you can use available tools and make some comparisons. You can pick a search term and compare a well ranking site to a poorly ranking site. You can use the free tools on TheHoth to analyze backlinks and other metrics. I regularly do this and I regularly see that sites with more backlinks rank higher (there are always exceptions). So despite search engines trying to downplay their importance, backlinks are still king.
Why would I list IP address of the website? It used to help rankings to have a unique IP address for your website vs a shared IP address. It still does, but not as much. What's the difference? A unique IP address is used only on 1 website, while a shared is used on multiple sites, potentially hundreds. You could be guilty by association to a bad site, which can penalize your rankings.  A unique IP address also shows your site to be a bit more professional and business like (because hosting with a dedicated IP address costs more). IP addresses are in limited supply and are not as available as they once were, so this is may not be as much a factor as it once was.
Page load speed is critical. If your site constantly loads slowly it will be penalized. Why? Because search engines do not want to hand a searcher off to a page that never loads or is too slow to feel usable.  It also goes back to the professionalism factor.
Page load speed and IP address issues are easy to fix. Both can be solved with a good hosting provider. If your site still does not load fast, then you may have a coding issue or plugin configuration issue that needs addressing. You should also make sure you don't have large images where you don't need them: images should be sized correctly so that they are as small as possible to load fast, yet still look good.
The most difficult off page factor to improve is backlinks. Even if you have great content that grows links organically, it may not be enough and can take quite a bit of time. Guest blogging (writing articles on other websites) is one example that can help. There's a long, long list of things not to do and a short list of things to do: and I address them in my booklet SEO Brain Dump (there's too much to cover in one article here).
I do not recommend using, under any circumstances Fiverr for SEO backlinks or most other SEO services.
I 100% recommend using TheHoth – I use their free and paid tools.
So no, Off Page SEO is NOT Dead and Backlinks still matter (a lot!) in 2019!
Until next time,
Fred
P.S. The links to other products and services may be affiliate links.