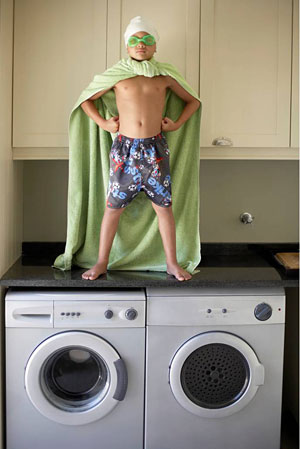 I once worked with a man who claimed he'd achieved some remarkable things in his life by being too dumb to know he couldn't do them… However, he really wasn't dumb at all! He just didn't let his mind, or those people around him, or society in general, talk him out of trying to realize his visions and dreams. Neither should you.
Yes, you're shaking your head in agreement, but no, you probably don't get it. It's easy to agree, it's hard to do.
Let's imagine a few scenarios.
Scenario One:
It's the middle of the night and you're awakened by the sound of someone moving around downstairs and rummaging through drawers. You know you and your wife are the only two people who are supposed to be in the house and she's right beside you. Your kids are spending the night with friends. Do you call the police or tip-toe down the stairs to find out who's there? Or maybe you call the police and then try to work up enough nerve to go downstairs.
Scenario Two:
It's the middle of the night and you're awakened by the sound of someone moving around in your 8-year old daughter's bedroom. You hear muffled noises and sounds of a struggle… do you call the police or run in there full steam ahead?
Scenario one, while urgent does not trigger the same response as scenario two does it? Scenario two brings out the superhero in us and we're in motion and taking action without considering much of anything except stopping the attack on our child.
Attacks, fires, a mine collapse, crazed gunmen, natural disasters, war, etc. regularly turn normal, everyday people into heroes. Some will remain frozen and paralyzed with fear: sometimes everyone will. But occasionally, one person, or a few people, will rise beyond their mere mortal trappings and perform truly heroic feats. Why? Because in a split second, in a flash of action, they thought they could. They didn't contemplate failure. They didn't let fear stop them. They left their comfort zone behind them and leapt into the unknown like a diver jumping off a high diving board.
In scenario two above, you don't even consider your comfort zone; it never crosses your mind. You're out of your bed and rushing into your daughter's room to face whatever or whomever is in there. And chances are, unless they have a gun pointed at your head as soon as you appear, your frame of mind will allow you to stop them.
It's easy to understand the tricks the mind plays on us when we look at extreme examples like these two scenarios. But for most of us, life does not throw such issues at us every day (and I'm glad!).
So for most of us, we're like lobsters being cooked in a big pot on a hot stove: we don't realize that the water is getting hot until it's too late. Situations and actions that may have a drastic impact on our lives, either positive or negative, remain just below the surface, never receiving the attention they should.
Some things are so subtle that even when they're pointed out to a person, they're usually denied. Most people would like to have more money and more time. Yet the majority of people come home from work and spend several hours watching TV each night. A lot of people would like to loose weight and get in better shape, yet they never get off that couch.
It takes a tremendous amount of energy and discipline live life like everything is approaching the urgency AND importance of scenario two above. There is no tomorrow. There is no next week, or next month. I'm going to do something about it today, right now.
In scenario two above, you would not roll back over in bed and say to yourself, "I'll take care of it tomorrow if nothing else comes up", you wouldn't go to the movies, or turn on a re-run of some stupid TV show. No, you'd get your butt out of bed, run down the hall, and burst into your daughter's bedroom with enough testosterone to make a Marine Drill Sergeant proud.
So why is it so hard for us to do that everyday of our lives? I guess it's a quark of human nature that helps preserve us if we're living in a cave. But we're not living in a cave. Even if you're at the bottom of the economic scale, most of your basic wants and needs are probably met. So we get fat, dumb, and happy. In other words, we get complacent:
"I'll wait to read that book tomorrow;
"I just want to watch TV tonight."
"I'll wait to take that course at the community college; I'm just too busy with everything right now."
"I'm too tired to check on what my daughter is doing in the bonus room with her boyfriend; I'm sure they're OK."
"I'm too worn-out to get up and go to church this morning and the kids want to sleep anyway."
"No one will probably buy what I create or write, so why make the effort?"
"I don't know enough to [insert goal here] so I'll just [insert watch TV, drink another beer, goof off with my friends, etc] and try to do some research when I'm not so tired or when I feel better."
And it goes on and on…
The human brain is naturally lazy (naturally conserves if you want to say it in a nice way).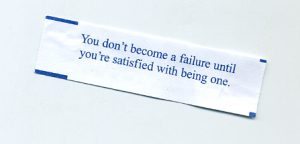 SOLDER, GET YOUR SORRY FEET ON THE FLOOR, SUCK IN THAT GUT, AND TAKE CHARGE OF YOUR LIFE.
IS THAT CLEAR YOU MAGGOT?
SIR YES SIR!
Aim for big dreams and big plans. Sure we're going to be scared. When we leave our comfort zone(s) and blast into the unknown, it's normal and beneficial to be frightened. We can outsmart our own brains and our own human nature if and only if we realize that we don't have any guarantee of any time beyond the present. The only moment in time that we can take the opportunity to exploit greatness is right now. Not yesterday, not tomorrow, right now.
Let fear fuel the rocket that propels you forward instead of stopping you cold in your tracks.
Until next time,
Fred