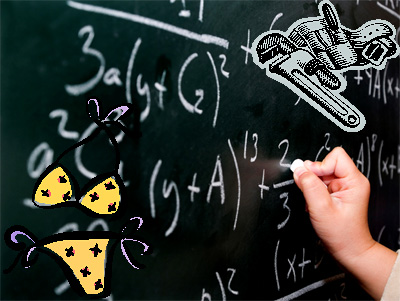 I hate to bust some bubbles out there, but it's true, there is not a formula for success.
I've been catching up on reading some of the blogs that I have in my blog roll (right-hand column about half-way down) – I've linked some good ones there – you should read them too.
I always read comments to blog posts with a grain of salt. Most of the time you'll never recognize the name of the person leaving the comment. That in and of itself does not indicate that they do not know what they're talking about, but it should at least alert you to the fact that it's possible you may actually know more than they do about the subject at hand.
It's a flaw of human nature to automatically assume that the written word is accurate: combine that with how easy it is to let non-smart people leave comments, or even have their own blog, and we've compounded that flaw by an order of magnitude.
As I was reading some of the comments on Clayton Makepeace's blog I noticed that some make perfect sense and some, especially the longer comments, tended to fall into the other category. Some comments string together copywriting buzzword after buzzword with a few acronyms thrown in for flavor. For example imagine three or four paragraphs of "I'm studying the Herbert Bingwinger Left Handed Headline and Bullet Writing Formula which was recommended in the P.I.P.R monthly newsletter, after that I will tackle the Joe Blogswad's Groundhog and Hogtied Subliminal Market Methods." You get the point.
People want a set of instructions that remove the understanding of human nature, the thinking and creative process, and just cranks out masterpiece after masterpiece. They want a button that they push and out comes the end result. It will never happen with truly artistic and creative processes. We're not milling aluminum or steel on a CNC machine where a consistent set of inputs always will yield the same end result: we're CREATING something.
Doctors: Good, Bad, and Gifted
We've all been to good and bad doctors, sometimes it's their mannerisms that make the difference, yet they both end up curing your problems. Other times, you can't get a cure for your ailment until you see a truly "gifted" doctor. What's the difference? He or she probably knows the same text book knowledge that the other doctors know, but the "gifted" doctor actually listens, thinks, and explores. They don't rely on their school learned knowledge and past experiences as a set of hard and fast rules and formulas that must be followed like a mindless robot, but rather as a foundation to build on, a starting point to find a creative solution to the current problem at hand.
Music Lessons and Lessons from Music
Music is very mathematical. There's pitch, tunings, timing, measures, rhythm, harmonies, etc. My daughter took piano lessons for years, starting when she was 5 or 6 years old. There were usually spring and Christmas recitals. It was always interesting to watch as different students played: some were very technical, almost robot like in the way they played. They didn't miss a note and their execution was perfect – yet it wasn't very musical. Then there were students who played very well, missing a note or something every now and then, yet their performance was better because it was musical. They put emotion into their playing and those hard and fast rules of music notation yielded just slightly so that something warm and enjoyable, although not technically perfect, was rendered.
Similarly, the winners in copywriting, and business in general, are not necessarily the rule followers, but the rule benders.
While I'm on the subject of music, I love bluegrass. I'm also a musician and songwriter. I've co-written a song with the amazing Rhonda Vincent although she's not used it yet (nudge, nudge). Anyway, Rhonda used to have a guitar player by the name of Josh Williams. Josh is a truly gifted musician – to hear him play is real treat and for those of us who are musicians, a humbling experience. He's plays fiddle, banjo, mandolin, guitar, and probably several other instruments as well. He tells a story I really like, but can't remember all the details, of warming up or practicing and being overheard by a very famous banjo picker. Josh was young at the time. The famous banjo picker walks over and compliments him on his technical ability and comments that "you sure can play a lot of notes on that thing"… then he gives the advice which probably moved Josh from a technical player to an artist, he said "just remember son, you don't have to play them all in every song". Now I may not have the exact details and quotes, but you get the point I'm sure.
String Bikinis and Tool Belts:
You can buy all the systems that come out month after month. "String Bikini Mud Wrestling Marketing", "Balloon Marketing", "List Building Strategies for Complete, Blithering, Idiots", etc. and never have one iota of success. Systems and plans are great, but they are nothing more than arrows in your quiver to be used at the right place and time as a tool. They are tools in your tool belt; they do not replace the skilled hands that are required to use them successfully. They do not replace action and effort. They do not replace a brain that can create a unique solution to a problem.
Until next time,
Fred