My Dad – "Pop"
My dad, Boyd L. Black, passed away last Wednesday (3/30/1930 – 3/4/2009) after a long, hard battle with cancer. When he was diagnosed with stage 4 colon cancer about 2 years ago; it had already spread to this liver and lungs. He faced it head on and we had several good months after his first round of chemo. He lived much longer than his doctors thought he would. I went with my parents to the first doctor visits and when the doctor showed us the scans and talked about treatment, I could tell he didn't expect my father to live long. He didn't know my dad yet! When the doctor explained the treatment options, he said radiation was not an option because of how much it had spread. He said he wanted to start off with a certain chemo in combination with another drug and then after several weeks do another scan and see how it was working. If no progress was visible, then we'd step up to the strongest chemo. My dad said no; let's just start with the strongest chemo.
"Pop" (as I called him) also had a bad heart. Smoking and not eating right will do that to you. His treatment options were limited by his heart – no surgery in other words. Like his cancer, his heart problem was not diagnosed until it was in its later stages. He had 3 100% clogged arteries – however, because he would not stop walking, or give up, his heart had built natural bypasses called collateral vessels. This was finally discovered after the doctors thought he had gall bladder issues which turned out to be his heart.
My brother's tell a story about my dad (I was too young to really remember) moving a bush from beside our house to somewhere in the back yard so that he could plant a different bush where this particular bush was by the house. They dug and dug, and dug. Still they couldn't get the bush to come out of the ground. It seems that whatever type of bush this was had a long tap root. Finally my dad lost his temper and got down in the hole, wrapped his arms around the roots of the bush, and with sheer determination, and lots of explicatives, yanked the bush out of the ground and stomped across the back yard and put the bush where it was to go. That's how he faced cancer too!
Ultimately the cancer won, but he fought it with everything he had until his last breath. He even told the Hospice nurse, with a horse whisper because he could hardly talk, that when he got better he was going to invent morphine that didn't taste so bad!
My parents loved each other with a love that's uncommon and rare these days. He made it clear that he was not afraid to die, he just didn't want to. He didn't want to leave my mother and he wanted to watch his grandchildren grow up.
My dad's favorite things were family, music, food, and woodworking. He was a tenor and sang in various choruses and groups all his life until just a few years ago when his heart started giving him more and more trouble.
My dad was old school and my parents instilled those values in my brothers and me. His lifelong friend, The Reverend Raymond A. Petrea, delivered the sermon at his funeral. They grew up in the same church together and were good friends all their lives. If fact, my children are the 4th generation of my family in the church – you might say we have roots there! Pastor "Pete", as everyone calls him, is retired and he and my dad had an agreement that if my dad died first Pastor Pete would preach at his funeral, and if Pastor Pete died first my dad would sing at his. They have lots of good stories and Pastor Pete included one in his sermon:
Boyd and I agreed long ago that there was never a time when we did not know each other. We were in the same Sunday School class from the Cradle Roll on through all the school grades. We were both acolytes, sang in the choir, worked together at a grocery story, went on double dates and engaged in the typical activities of teen-agers born in 1930. The years of separation did not weaken our bond.

When I was serving my last full-time parish, in Liberty, he called and said, "Let's have lunch." We agreed on Nick's. We ordered and while we waited, he said, "Pete, you know Macedonia used to have Sunday evening services. Do you remember the time after Luther League [youth group], that you decided not to go?" I suppose we were 14 or 15 then.

I told him 'no." He said, "Well I do remember that I was staying and you gave me your offering envelope to put in." I still didn't remember. He said, "Well, the envelope made it into the plate, but that damn dime didn't. I want to make it up to you and the Lord." He slid over a check made to the church I was serving. It had been 50 years, one dime, and he had to make it up. The check was for $100.

That's what I call integrity.
When Pastor Pete was visiting with us the day before the funeral, he told another story of he and my dad hitch-hiking to a church youth convention when they were 15 or 16. It was several hours away and they got a ride on some type of open military truck with no windshield!
Watching anyone fight cancer is hard. The treatments take you to hell and back, but they do buy you precious time. If it's caught early enough, like my mother's breast cancer years ago, it can be cured in some cases. But if not, and when the treatments stop working, it gets really, really ugly at the end. Early detection and avoiding unhealthy things like smoking and tobacco use are key to survival. My dad smoked a good portion of his life and you can bet he wished he had not. If fact, like most people in his position, he would have given anything to have never touched tobacco.
As I mentioned above, my dad was a singer and had a powerful voice that could fill a church without amplification and run chills up and down your spine. It was a hard thing for him to deal with when a few weeks before his death he started having more and more trouble talking and communicating.
As the end approached, I spent a lot of time praying and wondering what he must be thinking, what it would be like after he was gone, and how would my mother deal with it? We kept my dad at his home until just a few days before his death when we had to move him to the Hospice home. That's what he wanted, so we made every effort to do so. At some point a person reaches a threshold where you just want the suffering to stop. Once you reach that point, when death does come, it's a mixture of relief, grief, sorrow, and joy. Relief that he's no longer in pain and joy that's he's in a better place.
I don't usually preach on this blog, nor do I hide the fact that I'm a Christian. After my father passed away, while still in the room at the Hospice house, I walked by the bed where his body had just been removed and noticed a smell I'd never smelled before. It was somewhat flowery and sweet, but not like perfume. It just "felt" good. It was very full, but not overpowering. I tried to determine where it was coming from but could not. Then it was gone. My mom rode with me to her house. When I stepped out of my vehicle I smelled it again. This time I took several deep breaths trying to figure out what it was or where it was coming from, but could not. Then it was gone again. I've not smelled it sense. I've asked my Pastor what he thought, as well as my blogging friends Brent Riggs and Terry Dean. Brent even made a post about it on his blog. All think it was an Angel escorting my dad or my dad's spirit itself letting us know he was in a better place. The hospice nurse said that they hear stories like this from time to time – none quite like this, but similar. This occurrence has given me a great deal of peace and comfort.
If you'd like to hear my dad singing, the link below is a solo that he sung on March 17, 2002 at a WENOCA reunion concert. I believe the group is what used to be the AT&T Chorus (he retired from AT&T).
Boyd Black – Seek Ye The Lord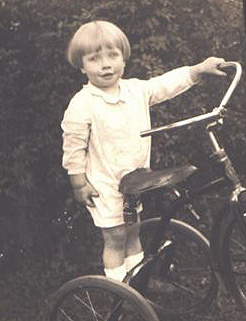 My dad when he was 3 Years Old!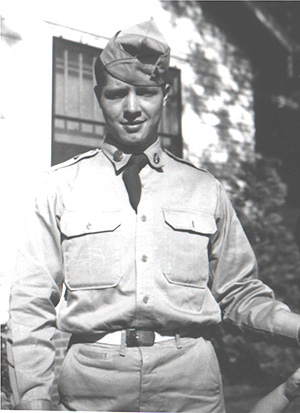 My dad when he was in the Army.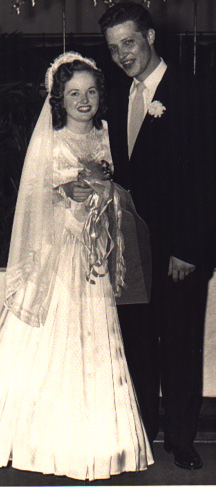 Mom and Pop Wedding Day!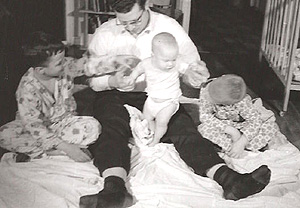 3 Sons… I'm the little one!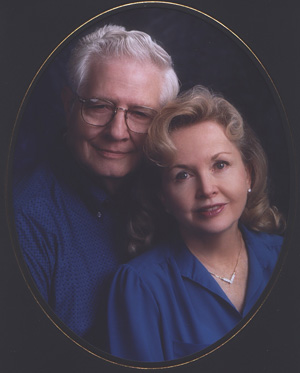 Mom and Pop, when he was 55 I think.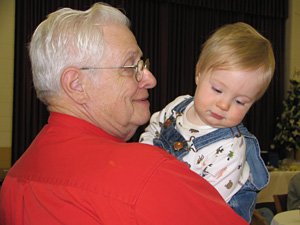 My Dad and Walker (my youngest child).
Rest in peace Pop – I love you and miss you!
Fred