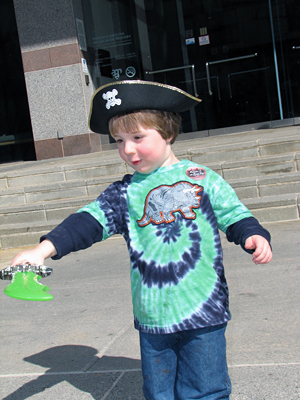 Today's exercise is to put a thick blanket over your head and invite of few of your friends over to punch you! You can try to punch them back if you can! It's hard to defend yourself because you never know where the next punch is coming from. You're on edge because you know you'll feel it when it lands! It's hard to land a punch too – you're just batting at thin air not knowing where to aim.
Now Grasshopper, you must let go. You must listen to your inner being and focus not on what you can't see, focus not on what you don't know: instead become one with your opponent and you will know where the next punch will land…
Sound crazy? Maybe, maybe not.
If you fail this exercise, you can try to find your "happy thought". Remember Peter Pan could fly if he remembered his "happy thought". What's your "happy thought"? Mine is certainly my wife and family. My four year old thinks he's Peter Pan… sometimes he pretends to be Captain Hook too – I have the bruises to prove it. He's watched the old Disney animated Peter Pan movie until he wore it out, and now he's watching "Hook" over an over. When he watches "Hook", he gets his sword and runs around the house like crazy when Peter remembers how to fly! How long has it been since you had that much fun and let your imagination run rampantly wild?
Imagination is more important than knowledge. For while knowledge defines all we currently know and understand, imagination points to all we might yet discover and create.
– Albert Einstein
Albert Einstein was a pretty smart guy… we'd all be better off to play a little more and use our imaginations a little more. The thing about imaginations is they get rusty when you don't use them. It takes a little work to get them functioning properly again. So let loose and start getting the rust off of your imagination: your business and your family will thank you!
Everyone wants to be happy, its right up there at the top of the list of things people want. Well, I guess I should say most people, because surely somewhere there are a few nuts that just can't seem to be happy being happy! Since you're not one of those people, and your customers are not those people, focus on being happy.
Most of the time, I'll avoid a store or place of business if I've had an unhappy experience there, or if the people that work there are part of the unhappy nut club. I'm even willing to go where I have to pay a little more for a product or service if I've had a good, pleasant, happy experience there before or really like the people that work there. Most people, I suspect, probably feel the same way.
What's My Point Anyway?
Most of our lives are spent with a virtual blanket over our head while we take punches from every direction. At the same time, we're trying as hard as we can to land a few punches and make some progress in the direction we'd like to go. Most of our time is spent getting hit and just swinging at the air. Making zero progress and just wasting time and energy. I'm sure if we were to watch our lives from some celestial view point we'd look just as foolish and clueless as if trying to fight with a real blanket over our heads.
Grasshopper, stop focusing on what you don't know, what you don't have, what you can't seem to get, who you can't seem to communicate with, and all the things you think are stopping you, and listen. Just listen. The magic starts to happen when you listen. What or who are we listening for you ask? God, the Universe, whatever you believe in (within reason). "Ask and you shall receive". Notice it does not say you will receive a gold plated invitation, but if you ask, and if you really listen, you will hear the answer.
Sometimes you have to occupy your mind so that you can listen by getting in a quiet room, or taking a long walk alone in the woods, or working in your garden, or washing your car, or taking a shower, reading to your (or a) child, playing a musical instrument, etc, etc., etc.
You can be a Christian and get your answer in a fortune cookie: God works in mysterious ways! I opened my fortune cookie the other night and my fortune said: "There is beauty in simplicity". How true!
Until next time,
Fred