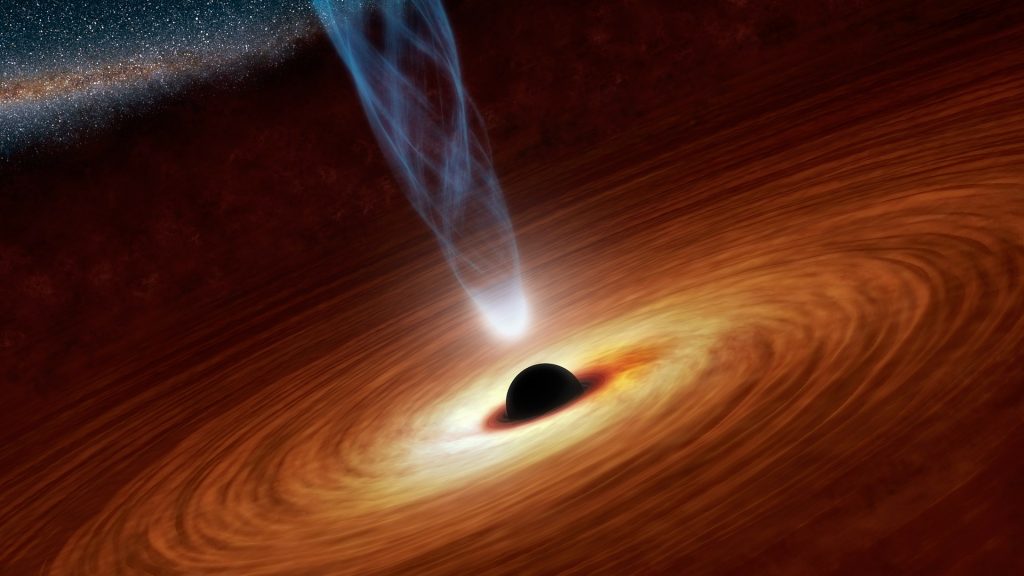 There are a lot of web sites like this one, that talk about success. When I first started reading some of them, the one thing I noticed was that they all spent a fair about of time talking about attitude, expectations, and intentions. I wondered why. Why not just give me the formula for successfully creating an internet business and cut all the Twilight Zone crap?
I'll tell you why. Because it matters, that's why. I'm sure you've heard that the majority of people who don't have any money and win a lot of money in the lottery or at Vegas, will be broke again in a year or two. Possibly worse. Why? Because they don't change their mental state – they never escape the "Event Horizon of Failure". They live it up for a while, perhaps even do some really good things with their new found fortune, but when it's gone, it's gone, nothing has changed in their ability to foster, maintain, or create a substantial level of monetary worth.
What is an Event Horizon?
An event horizon is the boundary in space-time around a black hole inside of which events cannot escape. What? Yes, that's what I said. I'll explain a bit more. A black hole is an object in space, like a star, that is so incredibly dense (compact), and therefore has so much mass, its gravitational force is so strong even light cannot escape from it. That's why it's called a black hole: you can't see it, no light escapes from it to the outside for us to see. If you happen to be cruising by a black hole in your space ship you would be drawn toward it. As you got closer and closer you would feel its gravitational force get stronger and stronger. You may radio your home base or other ships in your fleet to tell them of your situation. As you approached the event horizon you would still be heard and seen to those close enough to hear your radio transmission and or visually see your space craft. But as your ship crosses the boundary known as the event horizon all that changes. Gravity is so strong that light, radio waves, etc. no longer go out into the universe; they're caught in the shearing force of the black hole's gravitational pull and they plunge into the core of the black hole. You would probably be dead long before you crossed over the event horizon, but in case you were not, you would definitely be dead after you crossed over as your very atoms are shredded apart from the intense, violent forces.
"I'm giving her all she's got Captain, if I push it any harder the whole thing will blow"

– Montgomery Scott, "Scotty", Chief Engineer, USS Enterprise NCC 1701 (Star Trek TV Show)
How in the Sam Hill is this Useful Information?
Failure is like a black hole. And just like a black hole, there's an event horizon that you can cross and you will probably never come back. Like a black hole, failure draws you in. Its pull will try to keep you near and close. The closer you get to the event horizon the stronger the pull. What's more, you don't feel it or know it until some external force points it out. Even then, most of us deny it. Instead of screaming at yourself like Captain Kirk: "Scotty I need more power, give me all she's got…", you're telling Spock that he's wrong about the imminent dangers ahead and to just relax "everything will be OK"…
Failure by Rote
You accept mediocrity and even failure as normal because you've been trained that you can't succeed. Inadvertently, for the most part, your parents, teachers, pastors, and other important people in your life pass on to you their proximity to the event horizon of failure. They don't mean to, they can't hear Spock saying that they're in danger and need to turn around: it's all been blocked out.
Not everyone is cut out to be an entrepreneur or an industry leader, but a lot are. Have you ever wondered how many great leaders or entrepreneurs never even started down the path that would have produced unbridled success because they were told "you can't do that", or "you have to get a job", or "you must finish college first", or "you have to have a masters degree to do that"? I'm not against education, not at all, but look at some of the founders of companies like Microsoft; Bill Gates was a drop out and he's not necessarily the exception. As opposed to the lottery winners mentioned above, if you were to take away all of Bill Gates' worldly goods and leave him stranded on a street corner with nothing more than his cloths, he would be back on top of a huge pile of wealth in a few short years. People like Bill Gates know they deserve success and they expect success. They realize that money is not evil, nor is it the key to happiness, but that wealth enables you to pursue what makes you happy and allows you to help the lives of others in a positive way.
There is hope.
The same process of rote learning that keeps you down can also transform you and help you reach success: but you have to stop listening to the propagators of perpetual failure. You have to realize that you deserve success and expect success. But it takes a conscious effort. The event horizon of a black hole is indeed a good analogy. Your old habits, your old situation, your old associates in failure, and possibly your family and friends will keep pulling you back as you start to make progress. You may be embarrassed to change but you must do it. You may hate to stop hanging around with the group or individual that is holding you back, but you have to break those negative bonds. You may "think" you really like those TV shows you always watch, but once you stop watching them you'll realize how silly (stupid) modern TV shows are, how much time they waste, and how they lower your expectations of yourself (and make us dumber and dumber).
One step at a time, one day at a time, one week at a time: you slowly change your world one positive thought at a time. The whole time, as you work on yourself, you need to visualize your goals and keep telling "Scotty" to give you all the power you need to keep from sliding into the black holes of failure and towards the success you want.
Until Next Time,
Fred