Usually you think you should look to the big successful stores and businesses for ideas on how to be successful. Not always. In fact, not usually. Here's an example from Sears that you should NEVER follow.
We have a 3 ¾ year old son (the youngest of four children). My mother saved an advertisement from Sears and asked me if I thought she should get this for him. It's an advertisement for "The Laptop Computer Just For Kids", you can see the front of the small, folder ad flyer below. The photo makes it look like a small laptop computer running Microsoft Windows.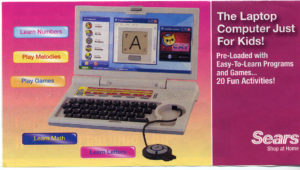 My first impression was sure, looks like something he would like. He already uses our computers to play games for kids his age.
Then I opened the flyer and saw the price of $29.99 and said to myself "What? How can they do that?". So I started reading the ad copy and the small print. You can see the inside of the flyer below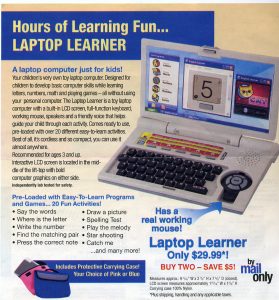 The ad copy refers to the product as a "toy laptop computer", and says it's preloaded with over 20 easy-to-learn activities. But then it says "Interactive LCD screen is located in the middle of the list-top with bold computer graphics on either side". What??? The small print at the bottom (in photo below) says the LCD screen is 1 15/16″ x 1 5/8″. So basically the flip-top part of the laptop, where it looks like a normal color laptop screen is just printed graphics with a non-color, small, LCD screen in the middle: they even printed in the green Windows "Start" button.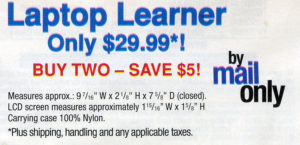 In other words, it's a rip-off. Well, maybe not a rip-off for $29.99, but definitely misleading. Very misleading. Most people would not catch the fact that the display is not a full color, normal laptop display and would expect that they've ordered a normal laptop computer type device. It's not. Now maybe it's just fine for learning, but the ad does not give a suggested age range that it's applicable for either.
It's also only available "by Mail Only". Wonder why? Because if you saw it in the store you'd laugh in disgust and not buy it.
Companies doing business like this is why there's an issue establishing credibility and trust in mail-order and Internet based businesses. This entire ad is designed in tricking someone like my mother, a grandmother, into order something thinking they're buying their child or grandchild a useful laptop computer for a child. You would think Sears would know better. They built their original mail-order business on trust. I guess that's been lost in the modernization.
We've had some products around the house that had similar functions and a similar small display. They were used for a little while and then tossed aside. Were they worth $29.99? Probably. But they were not disguised as a laptop computer and advertised as such.

Always remember ads like this and NEVER CREATE ONE!.
You can destroy the trust you've built in your customer base, or guarantee a new customer will never order another product from you, by taking advantage of them like this.
Always deliver what you promise, allude to, or infer. In fact, deliver more.
Don't try to "trick" people into buying; no good can or will ever come from it.
Your customer base is the most valuable thing you have, treat them with respect and honesty and you can successfully build a profitable business.
Until next time,
Fred
P.S Update 11/2017.  Sears has not done well since I originally published this article.  You can't have crap like this chip away at your reputation and survive.  Did this one ad kill Sears? No, but being of the frame of mind that it's OK to trick your customs and sell crappy stuff does not lead to success.