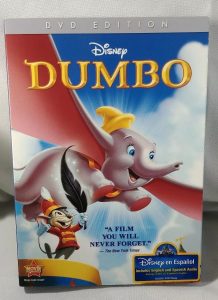 The very thing that has been holding you down is going to lift you up".
My 2 ½ year old son has a new DVD: Dumbo. He and I watched it this weekend. I really like those old Disney movies, however, I'm more familiar with the fairy tail movies like Snow White or Sleeping Beauty from when my daughter was younger (she's 14 now).
If you have been living under a rock since 1941, Dumbo is the story of a baby elephant, named Jumbo Jr. who has huge over-sized ears. The other elephants nickname him Dumbo because he keeps tripping over his ears and causing problems. Everyone picks on Dumbo, his elephant mother is chained and put in solitary confinement because she defends him. Eventually, Dumbo is befriended by a circus mouse named Timothy who helps him discover his ability to fly. After that, Dumbo is a star and everyone loves him! For you trivia people out there, Timothy the mouse is never called by name in the movie!
As Timothy is helping Dumbo discover he can use those big ears to fly, he says a most profound line: "The very thing that has been holding you down is going to lift you up".
Sometimes, like Dumbo, we hate the things that make us different than everyone else. However, if we embrace our uniqueness, and turn the situation around, we can often end up flying like Dumbo.
We all have gifts and talents that we don't use. We all have ideas and opportunities right in front of our eyes that we fail to see. My oldest brother once said that the best place to hide something is right in the middle of the room… what's hiding from YOU right in front of YOUR eyes?
What personal happiness are you missing?
What million dollar business idea is just sitting there, invisible, unnoticed by you?
Do you ever watch the TV show "The Big Idea" hosted by Donny Deutsch on CNBC? It's a really good show to inspire you. He interviews a lot of successful people. The other night the show topic was "Hidden Millions in your Attic". Donny interviewed several people who had taken something forgotten, like a recipe handed down from generation to generation, and built million dollar businesses out of it.
Instead of complaining and acting the part of a victim, we should look for the opportunities that life presents to us. It takes courage and it takes persistence. One of the guests on the "Hidden Millions in your Attic" episode of "The Big Idea" called a restaurant chain she wanted to do business with every Monday morning at 10:30am for 2 or 3 years. Every Monday. For years. However, she ended up with a multi-million dollar contract!
Look around you. Listen to your children, your spouse, your friends, your parents, and yes, even yourself! Like Dumbo, you may be tripping all over the very thing you want and you just can't see it!
Until next time,
Fred