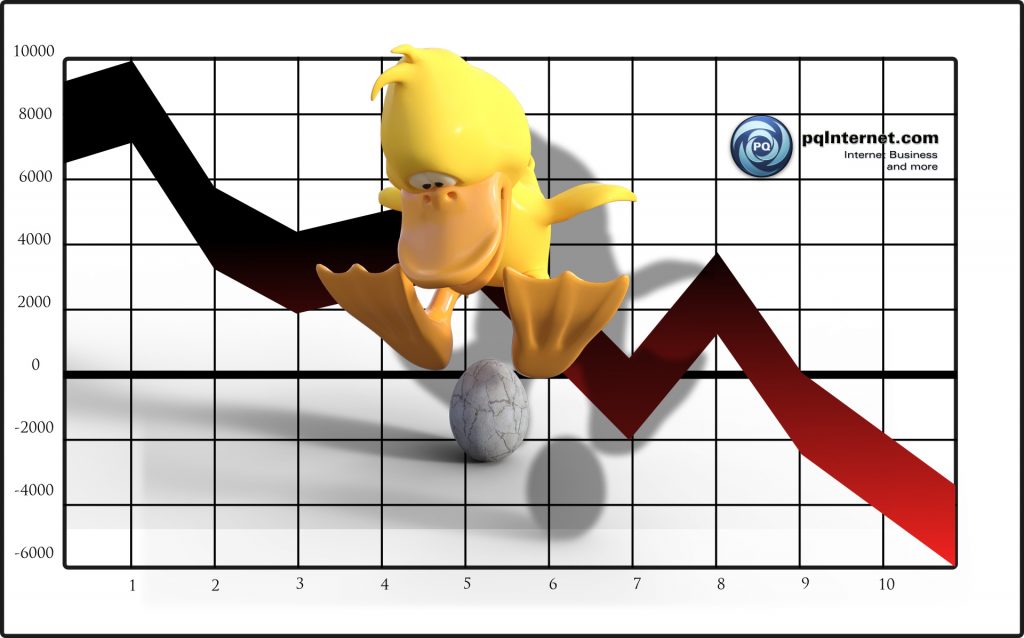 Updated 11/2017 for accuracy.
In a previous article I talked about Google Dip, and I've also mention here before that Google will take a site that's ranking well and seemingly just give it a wack to see what happens. I think that this is built into their algorithms to try and throw off Search Engine Optimization (SEO) efforts of people trying to get their sites indexed unnaturally.
What do I mean and why would they do this? If you're focusing on content and providing a web site or blog that gives value to your visitors, the search engines will do a pretty good job of finding and ranking your site. Combine that with the SEO methods that I use and promote on this blog and you can get good rankings.  Remember quality content is the most important long term factor.
However, if you're trying to "game" the system and rank well for terms that maybe don't have that much to do with your site, or trying to keep a site ranking well that's not very good, perhaps all ads, poor content or something, then you're more likely to jump and tweak your site anytime your rankings waver.
The Dunking
So by Google randomly, and I will add, temporarily, giving your SERP (Search Engine Result Page) ranking a dunking, maybe they think they can rattle the nerves of those types of sites and cause them to make changes that will, or possibly will, result in their SERP ranking going down permanently. What? Yes. For example: if my site is ranking on the first page for a particular keyword or keyword phrase and has been there for a while, and then all of a sudden, without me changing anything, my ranking drops to 150 or 300, then I'm rattled. I panic. I started ripping out code and changing things. I start altering my linking strategies, etc. But…. It was a head-fake. Had I done nothing, in few days to a week my SERP ranking would probably have returned to near where it was before. But, because I was intent on "gaming" the system, I panicked with a kneejerk reaction and now who knows what will happen.
Proof?
Don't believe me. Below I give you a history report from one of my sites for two different keyword phrases. I'm not going to reveal the site or the phrases because that usually results in people trying to beat my rankings or Google messing with the rankings (maybe). This data comes from my ranking tracking software that I'm developing and have mentioned several times. I had hoped to have it finished in August but it's not ready yet… to many other things going on! Be sure to sign up to my announcement list and when the software is available you'll have a day or two to get it at a reduced price before it officially goes on sale!
The drop is more noticeable with Keyword Phrase 1 than with Keyword Phrase 2, but its there in both. I've been monitoring this particular site for much longer than the data I give here and it's a regular occurrence for the SERP rankings to follow the patterns below. Note that 0's mean the site was not found in the ranks, or, an error occurred.
Everything you need to know about SEO is in my SEO Brain Dump!
Keyword Phrase 1
Date: Google Rank, Yahoo Rank, MSN Rank
9/3/2008 12:00:00 AM: 3, 1, 2
9/2/2008 12:00:00 AM: 3, 1, 2
8/29/2008 12:00:00 AM: 3, 1, 2
8/28/2008 12:00:00 AM: 3, 1, 2
8/26/2008 12:00:00 AM: 5, 1, 2
8/22/2008 12:00:00 AM: 5, 1, 2
8/20/2008 12:00:00 AM: 0, 1, 2
8/12/2008 12:00:00 AM: 0, 1, 2
8/11/2008 12:00:00 AM: 152, 1, 1
8/10/2008 12:00:00 AM: 5, 1, 1
8/8/2008 12:00:00 AM: 4, 1, 1
8/7/2008 12:00:00 AM: 5, 1, 1
8/5/2008 12:00:00 AM: 5, 3, 1
8/1/2008 12:00:00 AM: 110, 3, 1
7/31/2008 12:00:00 AM: 3, 4, 1
7/29/2008 12:00:00 AM: 3, 4, 1
7/24/2008 12:00:00 AM: 3, 0, 1
7/23/2008 12:00:00 AM: 3, 4, 1
7/22/2008 12:00:00 AM: 3, 4, 1
7/21/2008 12:00:00 AM: 3, 4, 1
7/12/2008 12:00:00 AM: 0, 0, 1
7/11/2008 12:00:00 AM: 0, 4, 1
7/10/2008 12:00:00 AM: 90, 4, 1
7/8/2008 12:00:00 AM: 3, 3, 1
7/7/2008 12:00:00 AM: 3, 4, 1
7/5/2008 12:00:00 AM: 5, 4, 1
7/3/2008 12:00:00 AM: 4, 4, 1
7/2/2008 12:00:00 AM: 5, 4, 1
7/1/2008 12:00:00 AM: 4, 2, 1
6/30/2008 12:00:00 AM: 5, 2, 1
6/29/2008 12:00:00 AM: 4, 2, 1
6/27/2008 12:00:00 AM: 5, 1, 1
6/26/2008 12:00:00 AM: 5, 1, 1
6/25/2008 12:00:00 AM: 66, 1, 1
6/24/2008 12:00:00 AM: 70, 2, 1
6/23/2008 12:00:00 AM: 72, 2, 1
6/20/2008 12:00:00 AM: 69, 1, 1
6/19/2008 12:00:00 AM: 71, 1, 1
6/18/2008 12:00:00 AM: 74, 0, 1
6/17/2008 12:00:00 AM: 68, 1, 1
6/16/2008 12:00:00 AM: 69, 1, 1
6/15/2008 12:00:00 AM: 0, 1, 1
6/14/2008 12:00:00 AM: 104, 1, 1
6/12/2008 12:00:00 AM: 96, 1, 1
6/11/2008 12:00:00 AM: 175, 1, 1
6/9/2008 12:00:00 AM: 107, 2, 1
6/6/2008 12:00:00 AM: 159, 1, 1
6/5/2008 12:00:00 AM: 108, 1, 1
6/4/2008 12:00:00 AM: 154, 1, 1
6/3/2008 12:00:00 AM: 158, 1, 1
6/2/2008 12:00:00 AM: 166, 1, 1
6/1/2008 12:00:00 AM: 165, 1, 1
5/31/2008 12:00:00 AM: 171, 1, 1
5/30/2008 12:00:00 AM: 127, 1, 1
5/29/2008 12:00:00 AM: 173, 4, 1
5/27/2008 12:00:00 AM: 129, 2, 1
5/22/2008 12:00:00 AM: 118, 3, 1
5/21/2008 12:00:00 AM: 117, 3, 1
5/20/2008 12:00:00 AM: 107, 3, 1
5/19/2008 12:00:00 AM: 157, 1, 1
5/17/2008 12:00:00 AM: 112, 1, 1
5/15/2008 12:00:00 AM: 689, 2, 1
5/9/2008 12:00:00 AM: 40, 4, 1
5/8/2008 12:00:00 AM: 42, 4, 1
5/7/2008 12:00:00 AM: 864, 4, 1
5/5/2008 12:00:00 AM: 15, 3, 1
5/4/2008 12:00:00 AM: 16, 4, 1
5/3/2008 12:00:00 AM: 15, 2, 1
5/2/2008 12:00:00 AM: 15, 2, 1
5/1/2008 12:00:00 AM: 16, 3, 1
Keyword Phrase 2
Date: Google Rank, Yahoo Rank, MSN Rank
9/3/2008 12:00:00 AM: 5, 7, 9
9/2/2008 12:00:00 AM: 6, 7, 10
8/29/2008 12:00:00 AM: 5, 7, 8
8/28/2008 12:00:00 AM: 5, 7, 8
8/26/2008 12:00:00 AM: 2, 7, 8
8/20/2008 12:00:00 AM: 78, 7, 7
8/12/2008 12:00:00 AM: 65, 7, 6
8/11/2008 12:00:00 AM: 24, 7, 6
8/10/2008 12:00:00 AM: 2, 7, 5
8/8/2008 12:00:00 AM: 2, 7, 4
8/7/2008 12:00:00 AM: 2, 7, 4
8/5/2008 12:00:00 AM: 2, 6, 4
7/31/2008 12:00:00 AM: 2, 4, 4
7/29/2008 12:00:00 AM: 2, 0, 4
7/24/2008 12:00:00 AM: 2, 0, 2
7/23/2008 12:00:00 AM: 2, 0, 2
7/22/2008 12:00:00 AM: 2, 0, 2
7/21/2008 12:00:00 AM: 2, 4, 2
7/16/2008 12:00:00 AM: 2, 3, 2
7/12/2008 12:00:00 AM: 16, 3, 2
7/11/2008 12:00:00 AM: 19, 3, 2
7/10/2008 12:00:00 AM: 18, 3, 0
7/8/2008 12:00:00 AM: 3, 3, 2
7/7/2008 12:00:00 AM: 2, 3, 2
7/5/2008 12:00:00 AM: 6, 4, 2
7/3/2008 12:00:00 AM: 5, 4, 2
7/2/2008 12:00:00 AM: 5, 4, 4
7/1/2008 12:00:00 AM: 5, 1, 4
6/30/2008 12:00:00 AM: 4, 1, 4
6/29/2008 12:00:00 AM: 4, 1, 4
6/27/2008 12:00:00 AM: 4, 1, 4
6/26/2008 12:00:00 AM: 4, 1, 4
6/25/2008 12:00:00 AM: 125, 1, 4
6/24/2008 12:00:00 AM: 131, 1, 2
6/23/2008 12:00:00 AM: 129, 1, 2
6/20/2008 12:00:00 AM: 116, 1, 2
6/19/2008 12:00:00 AM: 118, 1, 2
6/18/2008 12:00:00 AM: 123, 0, 2
6/17/2008 12:00:00 AM: 110, 1, 2
6/16/2008 12:00:00 AM: 109, 1, 2
6/15/2008 12:00:00 AM: 66, 1, 2
6/14/2008 12:00:00 AM: 14, 1, 2
6/12/2008 12:00:00 AM: 14, 1, 2
6/11/2008 12:00:00 AM: 18, 1, 2
6/9/2008 12:00:00 AM: 13, 1, 2
6/6/2008 12:00:00 AM: 12, 1, 2
6/5/2008 12:00:00 AM: 12, 1, 2
6/4/2008 12:00:00 AM: 12, 1, 2
6/3/2008 12:00:00 AM: 12, 1, 2
6/2/2008 12:00:00 AM: 12, 1, 2
6/1/2008 12:00:00 AM: 12, 1, 2
5/31/2008 12:00:00 AM: 12, 1, 2
5/30/2008 12:00:00 AM: 12, 1, 2
5/29/2008 12:00:00 AM: 12, 3, 2
5/27/2008 12:00:00 AM: 12, 1, 2
5/22/2008 12:00:00 AM: 11, 1, 2
5/21/2008 12:00:00 AM: 11, 1, 2
5/20/2008 12:00:00 AM: 11, 1, 2
5/19/2008 12:00:00 AM: 11, 1, 2
5/17/2008 12:00:00 AM: 11, 1, 2
5/15/2008 12:00:00 AM: 12, 1, 2
5/9/2008 12:00:00 AM: 11, 1, 1
5/8/2008 12:00:00 AM: 11, 1, 2
5/7/2008 12:00:00 AM: 12, 1, 1
5/5/2008 12:00:00 AM: 9, 1, 1
5/4/2008 12:00:00 AM: 7, 1, 1
5/3/2008 12:00:00 AM: 8, 1, 1
5/2/2008 12:00:00 AM: 8, 3, 1
5/1/2008 12:00:00 AM: 7, 3, 1
Until next time,
Fred