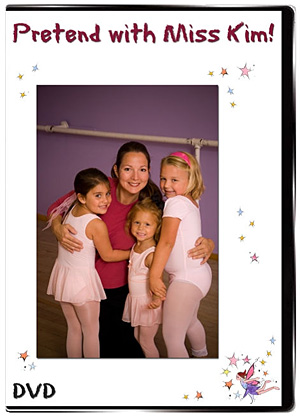 I haven't posted in a while and there's been a good reason. I've been really hard at work on my latest project. Actually, it's my wife's project and we're creating it together.
My wife has a gift for working with children: specifically creative movement and teaching them to dance. In fact, that's how I met her. I was a divorced dad with a young daughter and fell in love, head over heels in love, with Miss Kim the dance teacher. Luckily, she was divorced too. When we met, she had two boys and I had a daughter. Now we have a two and half year old son together!
We decided that it was time for a "Miss Kim" DVD! This is a small project compared to a "Barney" DVD or a "Baby Einstein" DVD, but it is still a big undertaking. It's perfect for us because it combines things that we love to do. In fact, it practically combines all of our talents (Kim with children and local networking, and me with music, audio recording, Internet business and marketing).
We had some setbacks along the way, but the problems have worked themselves out nicely. We've actually been talking about doing this for sometime, but had a lot of questions. After making the decision to get it done, Kim met the right person to handle the video end of things early this summer and we started making some progress. He was very experienced with projects like this and, the clincher: Kim taught his daughter dance 15 or so years ago! He worked for PBS for years doing video editing and filming documentaries. We also needed an artist to create animation to go along with the live footage for the DVD. We had a hard time locating the right person, but finally we did. We decided that animation of any type will have to wait for a future DVD and that instead, we would use still artwork for this project. This artist is the perfect match: the artwork she created is absolutely perfect for this project. Her artwork is so good that we may sell as many items with her drawings on them as we do the actual DVDs!
We should have a final version of the DVD to review any day now. If there are no major changes needed, it will be for sale soon! We should have a trailer up soon as well.
You can check out her web site for the DVD, and order it here: www.PretendWithMissKim.com.
Please help us get the ball rolling by telling your friends, family, and associates who have young children, nieces, nephews, grandchildren, etc.
One of the things I want to stress about this project is that we ended up with the right people working on it. We could have rushed ahead and forced a fit, but it just didn't feel right. Listen to your little voice, or intuition, don't forge ahead just because you want to get something done. Getting a product completed and ready to sell is important, it's the only way you'll ever make any money from it, but creating a quality product that will bring customers back again and again is more important.
Until next time,
Fred