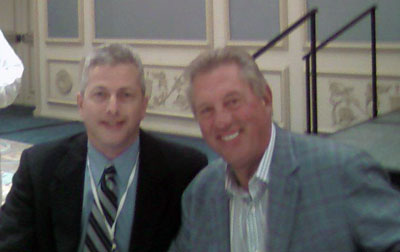 Fred Black (me – on left) meeting John Maxwell!
This past weekend I was fortunate enough to hear John C. Maxwell speak, as well as meet him. It was my first time hearing him speak – he is a very powerful speaker and motivator.
I purchased two copies of this book "Talent is Never Enough" so that I could read one and give one away here. I was also fortunate enough to get him to sign both copies. If you'd like to have a chance to receive one of the signed copies – free – keep reading.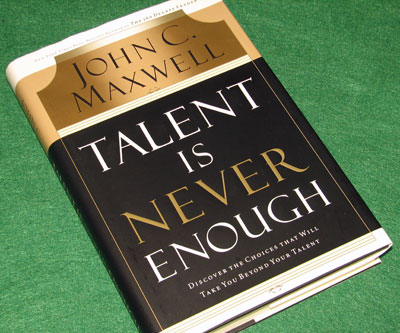 Win a FREE copy of John Maxwell's book Talent is Never Enough…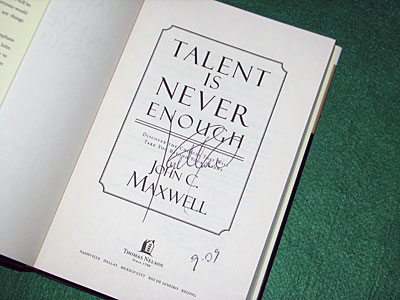 Win a FREE copy of John Maxwell's book Talent is Never Enough…
For those that don't know, John Maxwell is an internationally recognized leadership expert, speaker, and author. He has sold over 16 million books! That's a lot of books! He's a New York Times, Wall Street Journal, and Business Week best-selling author. He was also one of only 25 authors and artists named to Amazon's 10th Anniversary Hall of Fame. Three of his books have each sold over a million copies each. He regularly speaks to Fortune 500 companies, international government leaders, and audiences as diverse ad the United States Military Academy as West Point, the National Football League, and ambassadors at the United Nations.
"Talent is Never Enough" is a MUST READ book! I've not finished it yet, but in the few chapters I've read, John has already answered some very important questions that are critically vital to my life.
What is the book about? Talent alone will not make you successful. It can open doors but it takes more than talent to keep them open and succeed. In this book, John Maxwell outlines and defines exactly how to hone your passion, maximize your potential and live the life of your dreams. He uses authentic examples and time-tested wisdom. John shares thirteen attributes you need to reach and sustain your goals.
What kind of talent? Any type. Everyone has a talent. Some have multiple talents. Talents cover the range of things a person might be good at, not simply things like music, art, or sports. It can be business, management, marketing, teaching… anything. This book teaches you to take whatever it is you're good at and excel with it.
How to Enter…
Sign up to my mailing list using the form below and then leave a comment to this post. If you're already on my mailing list then just leave a comment to this post. If you're not sure if you're on my mailing list, then try to sign up and it will tell you if you're already subscribed. Then leave a comment to this post. I will randomly select one commenter from this post to receive John's book, but that person must be a confirmed and activated subscriber to my email list (meaning you've clicked the link in the email you receive after entering your name and email address in the form).
You have 1 week – I will select the winner next Tuesday (9-22-2009), so be sure to enter by midnight on the 21st.
Until next time,
Fred