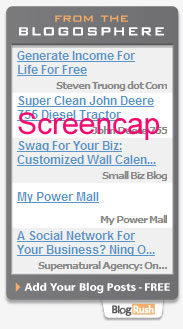 John Reese has launched a new FREE service called BlogRush. It's a great way to get more traffic to your blog. If you have a blog then you should install the BlogRush widgit on your site too. I've installed it in the right-hand column, it looks like the screenshot to the left.
The basic concept is that as users click on the links in the BlogRush widget on YOUR blog, your URL will be displayed in the widget on OTHER blogs. As people signup from clicking on the "ADD Your Blog Posts – Free" link at the bottom of the widget, you get points for clicks on THEIR widget too. So you can really generate some traffic to your blog with this.

Watch John's video here, but use USE THIS LINK TO SIGN UP!

NOTE:
I had some problems getting the widget to display anything besides "Invalid URL". It seems there's a missing part of the code in the javascript that you're given to paste into your blog.
If you're getting the "Invalid URL" error when you try and use the widget on your site, then changet this line:
blogrush_feed = "xxxxxxxx"
to
var blogrush_feed = "xxxxxxxx"
Obviously the x's represent YOUR id number, you only need to add the word "var" and a space to the beginning of the line.
Fred