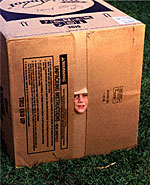 Here are two tips that can help you grow your blog or web site.
Most established blogs use the first tip, but few seem to leverage the second.
1. Email List:
Use a capture form to build your mailing list.
Give an incentive to sign up, such as a free report or tidbit of knowledge. You must be generous with your offer by giving away something of value. For example: I'm offering one of my full training courses as a subscriber bonus – fill out the signup form at the end of this article and receive it free!
Send an email to your list every time you update your site or blog, or when you release new products. This brings people back to your site and is an important part of keeping and growing a community of readers.
Unless you're a programmer, or have a programmer at your disposal, and have your own servers, I recommend a service such as aweber.com to manage your mailing list and subscribers.
Your mailing list will become one of your most valuable assets. Treat it as such. Make sure you have backups. Keep your backups in multiple locations.
2. Cliff-Hangers:
The objective of a cliff-hanger is to bring people to your web site or blog by "teasing" them with a little information that will generate enough interest to cause them to want to visit your site to get the rest of the information… here's how to do it.
When submitting articles, emails, or press releases, use a cliff-hanger to get people to take action. If your article has a list of items, publish the complete list on your web site. Leave off the last few items in your submitted article and in their place put a link to your web site with wording that explains to click for the remaining items.
Use a cliff-hanger with a long article too: split it into two parts and put the 'A" part in an article or email and put the complete article on your web site or blog.
Use this same method to build your email address list too. Put part "A" on your web site and then tell readers that you'll email part "B" if they sign up to your list. You will want to send out part "B" to your current subscribers if you do this, so that they automatically get the "B" part as well.
You can also use this cliff-hanger technique with an ad by giving one or two tips that people may not know about your product or service and then offer more information, either mailed, emailed, or hand delivered (depending on what you're selling) that contains x number of additional tips.
As mentioned above, you need to offer something of value to the reader to incite them enough to take action. You'll find that the more value you offer, the more successful you will be.
Until Next Time,
Fred